High Density Cartridge Heater (RAC)
The form of construction of these heating elements, allows its use in adverse conditions, such as vibration and high temperatures and that can reach over 500 ° on the surface of the cartridge
High Density Heaters (RAC), are ideal for the installation of a high power in minimal space.
Flexible leads from inside in standard models.
250mm Fiberglass/Silicone leads in standard models.
1000mm Fiberglass/Silicone leads (with thermocouple FeCu / Ni (J), PTFE insulation), standard models.
Standardized measures in metric diameters (mm).
Ø Tolerance:
UP TO 300 mm: -0,02 -0,06

UP TO 1.000 mm: -0,02 -0,10

OVER 1.000 mm: ± 0,10.
Standard diameters in inches (")
Ø Tolerance:
UP TO 300 mm: -0,02 -0,06

UP TO 1.000 mm: -0,02 -0,10

OVER 1.000 mm: ± 0,10.
Length tolerance: up to 130mm +0 -2 mm; more than 130mm + 1.5%.
We are able to supply any diameter between 3 mm and 25 mm.
Other diameters on request.
TIG welded stainless tube.
Flexible fiber glass insulated nickel wires from inside (standard models).
Core and insulation compacted magnesium oxide.
Heating wire Ni/Cr80/20.
Ø Tolerance for diameters from 25 mm + -0.10.
Instructions (for guidance) to place and mount
Insulation: 5 MOhm at 500 V DC Cold (minimum).
Dielectric strength: 1500 V 1 second.
Nominal Power: + 5% – 10%
The adjustment of the cartridge in the hole is very important for the proper functioning and performance.
The regulation of the temperature is essential and for this we recommend to place the measuring point not more than 15mm separately from the cartridge.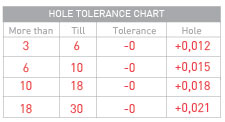 CONNECTION TYPES FOR STANDARD CARTRIDGES WITH BUILT-IN THERMOCOUPLE
We can place thermocouple type J (Fe Cu Ni), type K (Ni Cr Ni), type T (Cu Cu Ni)
If the customer says otherwise the thermal sensor is installed always insulated to avoid problems on sensitive control devices.

CARTRIDGE HEATERS WITH POWER DISTRIBUTION
It is used where it is necessary to spread out a completely uniform temperature to a mass.
It can be made with any type of connection type.



STANDARD LEADS LENGTH: WITHOUT THEMOCOUPLE  250mm /WITH THEMOCOUPLE  J (F-CON) 1000mm
RAC-HEATER FOR DIE CASTING (ZAMAK)
Se utilizan donde es necesario distribuir en una masa la temperatura totalmente uniforme.
Se pueden fabricar con cualquier tipo de acabado.
Connection length 1475mm high temperature resistant.
Stainless steel pipe and tightly welded.
Cable protection with galvanized steel conduit.
Isolation of compressed MgO.
Rear pivot for extraction included in the length.
The pivot diameter is 3 mm smaller than the diameter of the cartridge.
On request we can make any modification.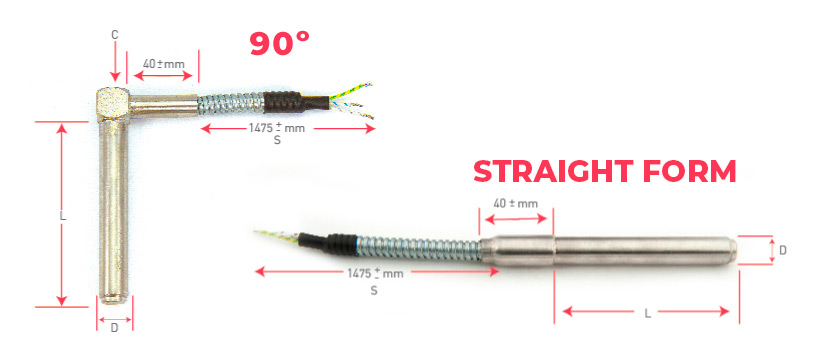 Fill in this for and contact RCI
If you have any question or interest in this product fill in this form and we will contact you as soon as possible, thank you.